Zidoo music player support native SACD ISO, DFF, DSF, APE, FLAC, WAV, DTS, MP3, AAC, M4A, OGG, WMA, AIF, M4R, MP2, AMR, CUE etc. .
Have been updated to Music Player 6.0. Take Z9X as an example, audio setting to turn on original sampling rate, HDMI and SPDIF port output Stereo DSD256,DST256, sampling rate support up to 176.4KHz. It will also support USB source sode output, which is still in the experimental stage. Here is a brief introduction to the use of the music player.
1 Add Music File
1.1 Start "Music Player 6.0", select"+" icon on the left column→Add folder
1.2 Music player support USB, SATA, NAS storage devices, this tutorial takes SMB sharing as an example.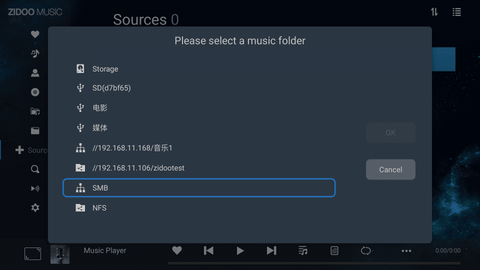 1.3 Select a music folder, then click "ok".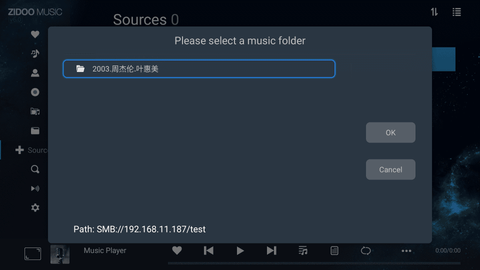 1.4 Wait for the music player retrieve the added music files.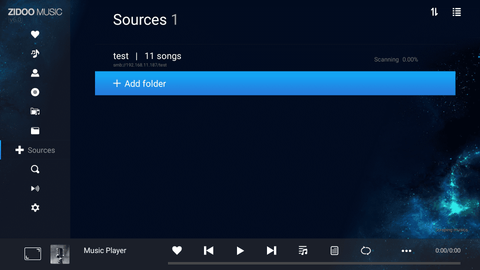 1.5 After the hard disk scan is completed, it is connected to the Internet. As long as the song has the correct file name, it can be automatically matched artist poster, artist introduction, album cover and lyrics in the cloud.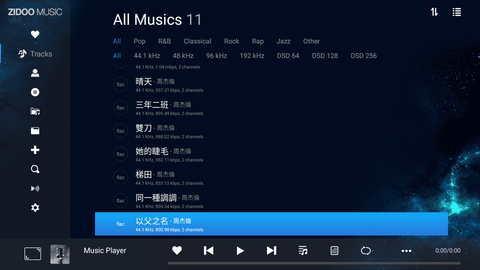 1.6 Click the music to play it. The left side of player interface shows the album cover, genre, publish dated, company, album,file size, sampling rate,bit rate, file size, channel(s). The right side shows automatically synchronized lyrics. The bottom of the interface followed by favorite buttons,previous song,play(pause), next song, play queue, lyrics search, play mode and song editing, artist details and album introduction.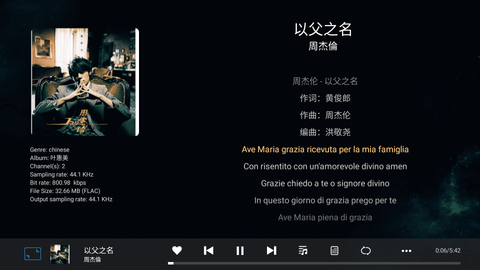 2 Music Player Function Introduct
2.1 Favorite
Click the ♡icon, it will be automatically saved in the favorites option.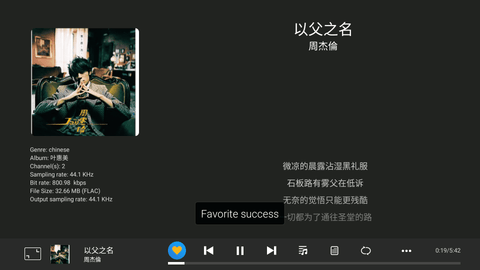 2.2 Creat Playlist
Support customize multiple playlists, also create a playlist by songs, artists, albums, etc.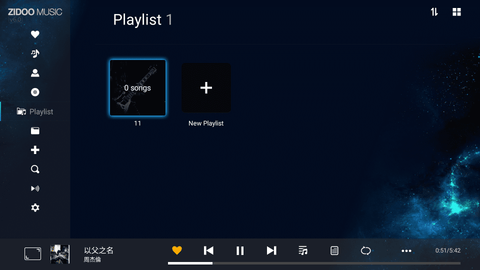 Select a music, press "Menu" button in remote control, then you can add the music to the customize playlist.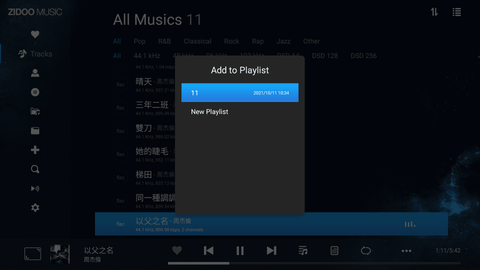 2.3 Search Function
If there are a lot of track files stored, music player support multi-dimensional search, intelligent association search for acronyms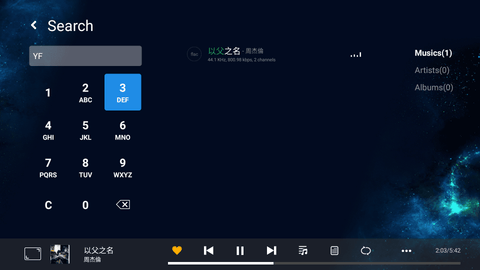 2.4 Lyrics Replacement
When the track is not match the lyrics, you can search and replace through this function.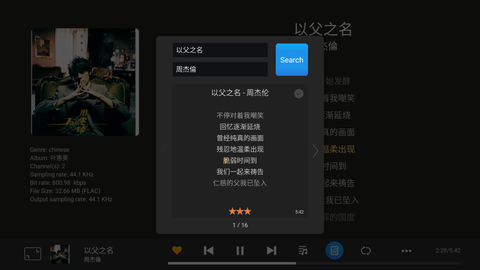 2.5 Edit and Rematch
Select the wrongly named or scraped song, press "Menu" button in remote control to edit or rematch.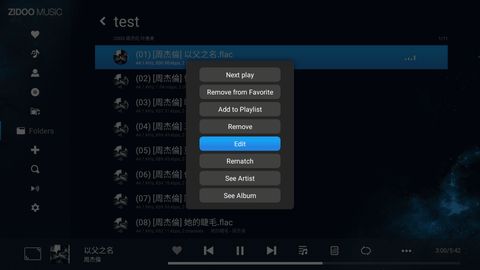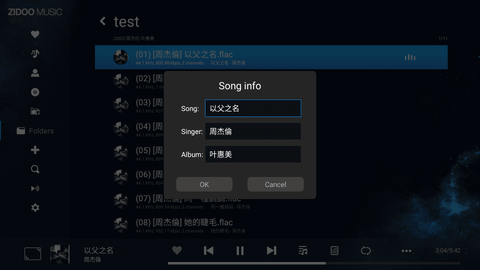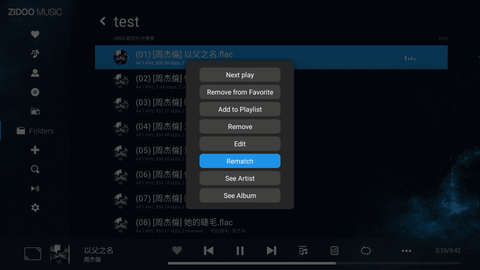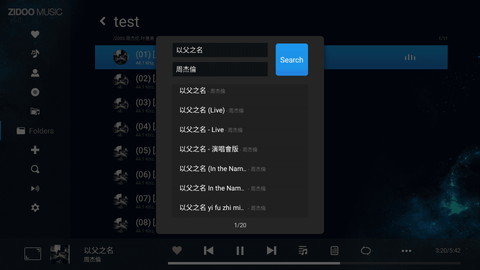 3. Setting of Music Player
3.1 Display
Setting the display information of song and auto full screen time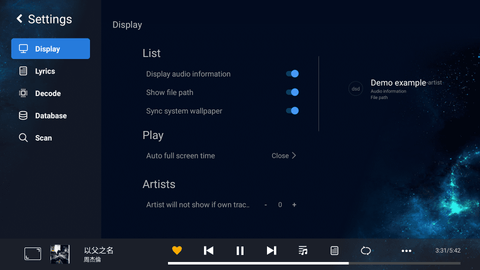 3.2 Lyrics
Relate setting about lyrics display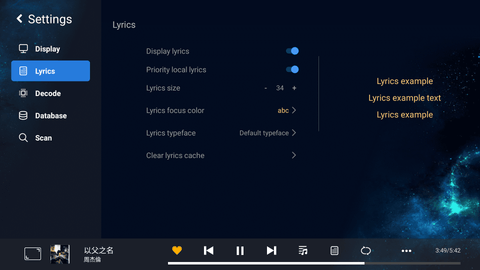 3.3 Decode 
When pre-decoding power amplifier and decoder support sampling above 48kh, in order to obtain better sound quality, pls turn on the original sampling sate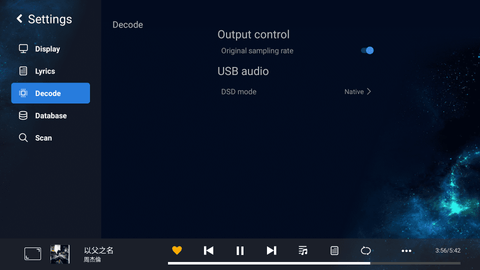 The decode menu of NEO X is more professional, there are digital output, DAC output, DAC switch and DAC sound effect settings respectively.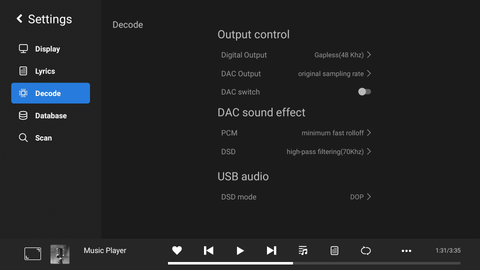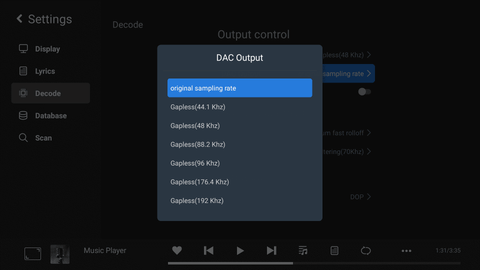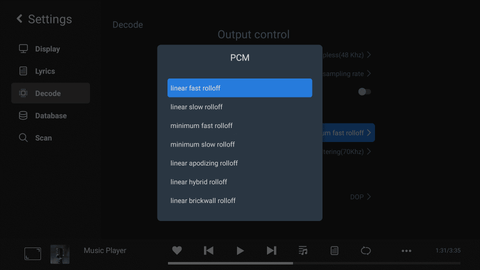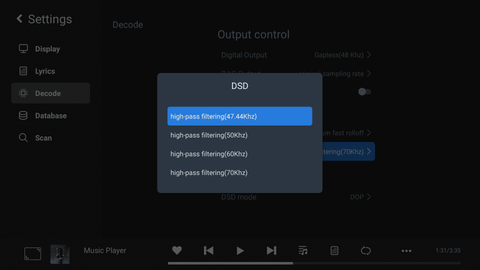 3.4 Datebase
Backup&Reset and Clear data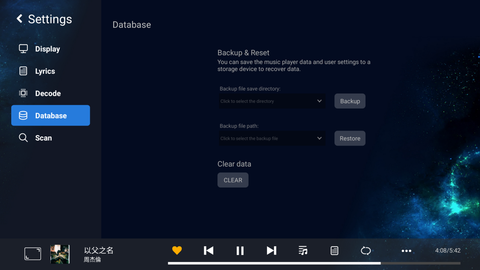 3.5 Scan
Keep the default settings unless there is special requirement.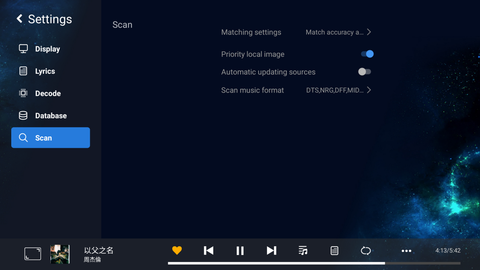 4 Zidoo Controller App to the Play of Music
Mobile phone (ISO and Android system) can install Zidoo controller by scan the QR code under "APPS→Control Center". Music player in Zidoo controller app can synchronize the music album classification, cover and other information of built-in music player in Zidoo and display it. Pure music mode is supported, that is, you can add and control music player without turning on the display device.