1. Download the firmware with "G" and USB manually update
1.1 Download firmware with G to USB disk or HDD, no unzipped and no renamed
Z9X  v6.4.62_G (with GOOGLE frame)
Link: http://apidl.zidoo.tv/Z9X/v6.4.62/Z9X_P_v6.4.62_G_202304191052_ota-package.zip
Z10pro v6.4.62_G(with GOOGLE frame)
link:http://apidl.zidoo.tv/Z10_PRO/v6.4.62/Z10-Pro_P_v6.4.62_G_202304191159_ota-package.zip
Z1000pro v6.4.62_G (with GOOGLE frame)
link: http://apidl.zidoo.tv/Z1000_PRO/v6.4.62/Z1000-Pro_P_v6.4.62_G_202304191411_ota-package.zip
UHD3000 v6.4.62_G (with GOOGLE frame)link: http://apidl.zidoo.tv/uhd3000/v6.4.62/UHD3000_P_v6.4.62_G_202304191454_ota-package.zip
Z9X PRO v1.0.65_G (with GOOGLE frame)
link: http://apidl.zidoo.tv/Z9X_PRO/v1.0.65/Z9X-PRO_11_v1.0.65_G_202311101805_ota-package.zip
Z20 PRO v1.0.65_G (with GOOGLE frame)
link: http://apidl.zidoo.tv/Z20_PRO/v1.0.65/Z20-PRO_11_v1.0.65_G_202311131823_ota-package.zip
Z2000 PRO v1.0.65_G (with GOOGLE frame)
link: http://apidl.zidoo.tv/Z2000_PRO/v1.0.65/Z2000-PRO_11_v1.0.65_G_202311141350_ota-package.zip
Z2600 v1.0.65_G (with GOOGLE frame)link: http://apidl.zidoo.tv/Z2600/v1.0.65/Z2600_11_v1.0.65_G_202311142239_ota-package.zip
UHD5000 v1.0.65_G (with GOOGLE frame)
link: http://apidl.zidoo.tv/uhd5000/v1.0.65/UHD5000_11_v1.0.65_G_202311151443_ota-package.zip
1.2 Manual firmware upgrade tutorial
Link: https://www.zidoo.tv/Support/support_guide/guide_target/jX8%2B0mU4clveq7k9e%5Bld%5D3ulg%3D%3D/guide_faq/CN6lY0XMyIg%3D.html
Online update
Main interface--->Quick Settings-->Others-->Upgrades-->enable " Automatically check Online update " and " Receive the beta version "
2.Activate Google Play Store
2.1 Please kindly following the guidance below to activate Google Play Store and access successfully.Turn on Z9X device and make sure WiFi/Ethernet is connected. Network could be set by Quick Settings> Network>WiFi/Ethernet.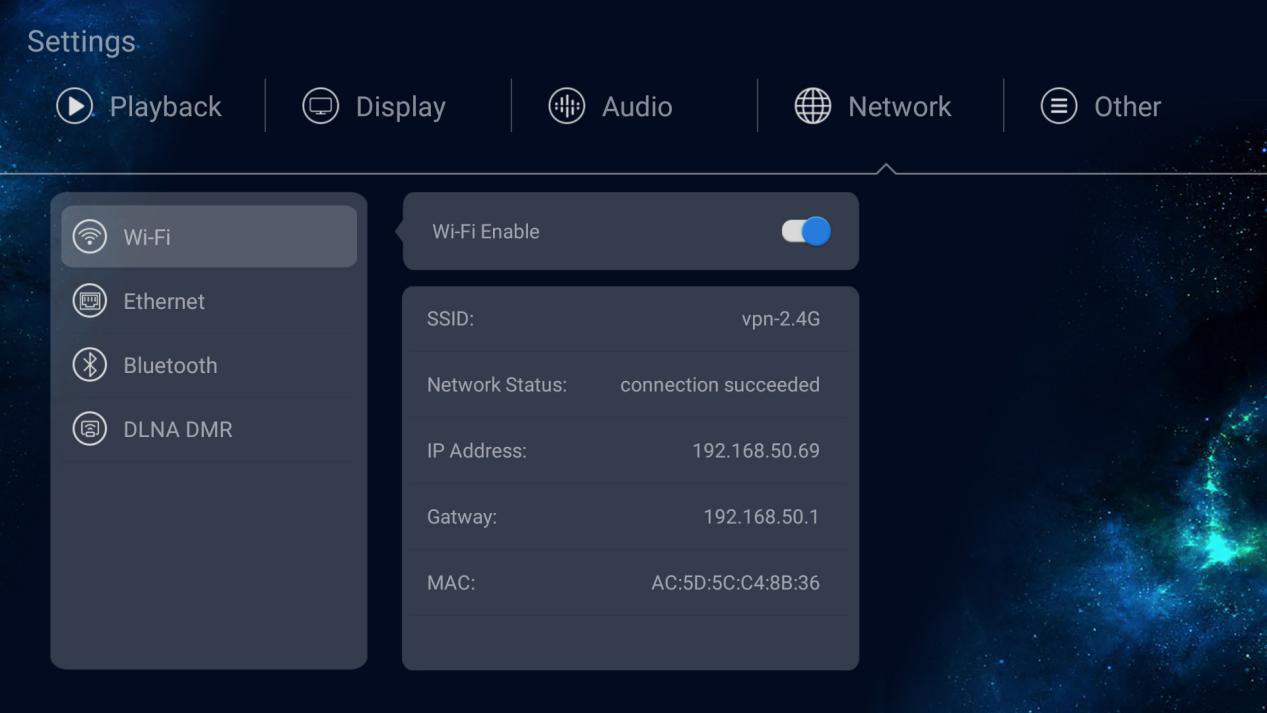 2.2 Find Quick Settings>Other>About>GSF ID. Take a note/picture to remember GSF ID numbers, it is needed to input these numbers later.
*If no GSF ID showing up, please click Google Play Store icon by Home Page>APPS>Google Play Store, GSF ID will display after accessing Google Play Store.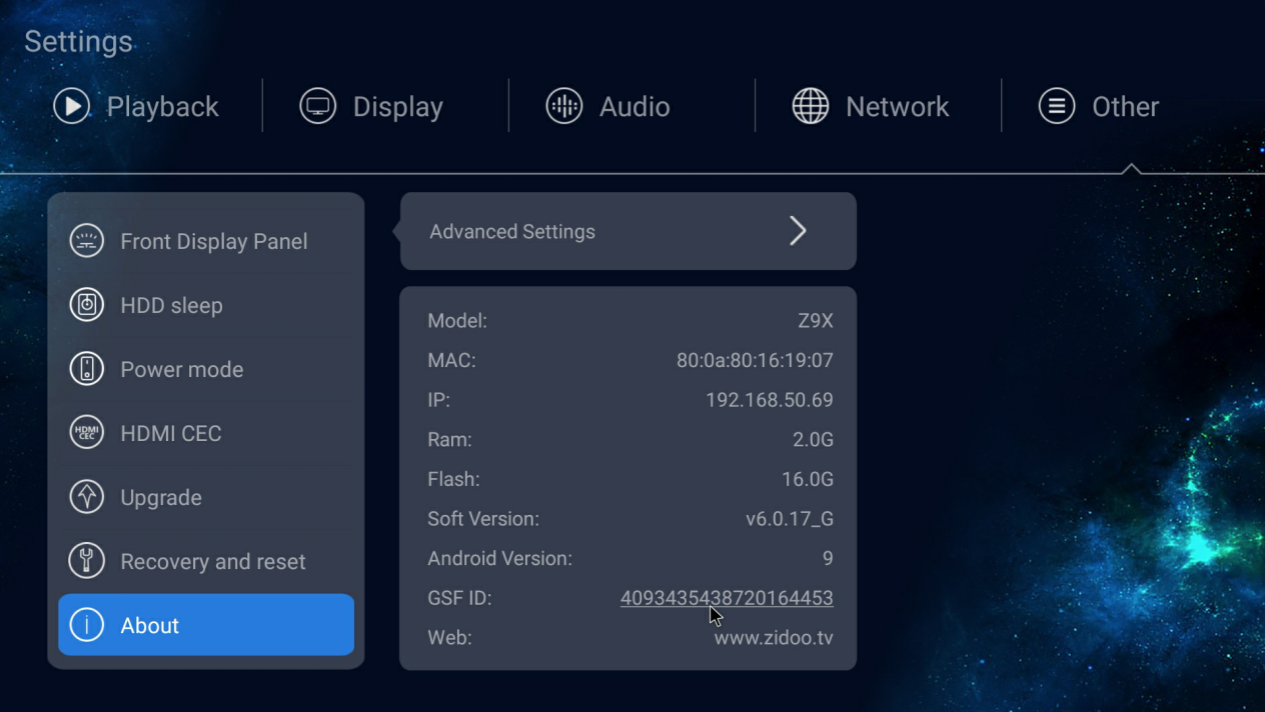 2.3 Press MOUSE button on remote to enter MOUSE mode. GSF ID numbers could be clicked in MOUSE mode by pressing "OK"
*When you want to exit MOUSE mode, just click MOUSE button on remote again.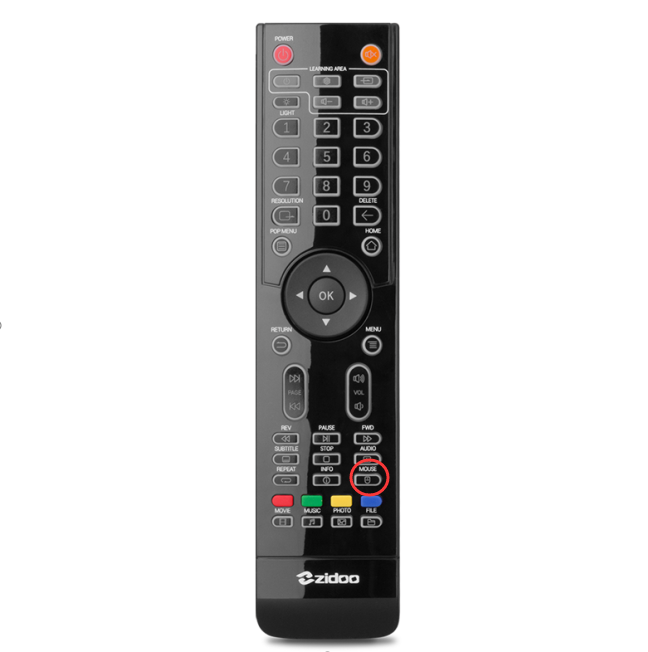 2.4 After clicking GSF ID numbers, you will see pages to login in Google Account and Password, then input the GSF ID numbers, click "Register" to finish Google Play Store activation
*Any Google Account that has never been activated for Z9X device could be used.
*Step 3 or 4 above could also be finished on cell phone or computer through the website below: https://www.google.com/android/uncertified/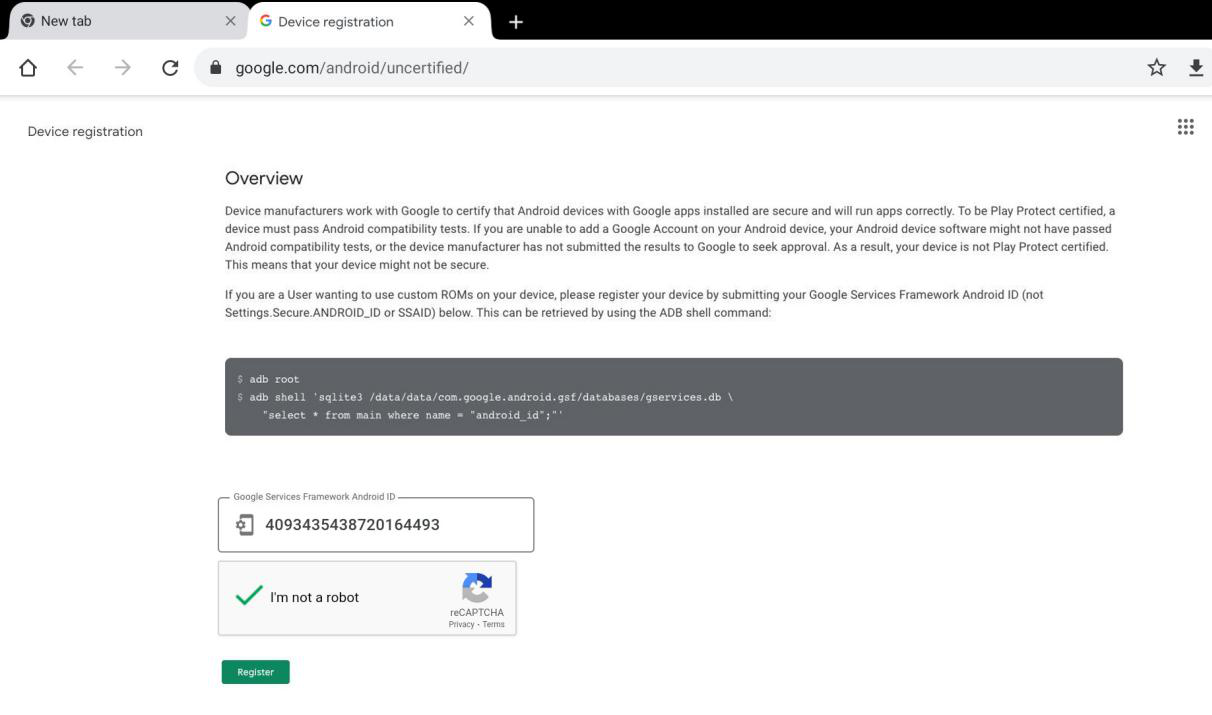 2.5 Access Google Play Store by Home Page>APPS>Google Play Store.
*If showing errors, please restart Zidoo media player and check again.
 If you update from firmware without Google play to firmware with Google play and meet some problem, try to restore factory setting for it. Every time you do restore factory setting, A new GSF ID will creat, fill the new GSF ID to activate google play store.
Quick setting ---> other ---> recovery and reset ---> restore factory setting