ZIDOO Z9X Media Player-RTD1619DR Android 9.0 Dolby Vision VS10 HDR10+
Regular price

$249.00

Sale price

$229.00

Unit price

per
Tips for Zidoo Fans:
1. Standard Shipping Method is about 9 - 15 days, tracking number will send to you when shipping out. If any questions about device contact email shop@zidoo.tv

2. For countries out of the European Union, the price of goods includes tax.
Only Germany, Austria, Italy, Spain, Poland, France, logistics services include EU tax.
Powerful hardware kernel

RTD1619DR hexa-core 64bit high-performance processor

Built-in VS10 Image Quality Engine

2GB DDR4 Large memory and 16GB eMMC
Android world and own APP
Android 9.0, Support OTA Update and Multi-language

Z9X is smart Android tv box. DRM widevine L1

ZIDOO Controller. Zidoo device own app.
Perfect picture
HDMI 2.0a output 4k@60fps / H 2.65(HEVC) / 12 Bit / All HDR

Support all HDR technology( HDR / HDR10 / HDR10+ / HLG / Dolby Vision )
Unparalleled sound quality
Multichannel passthrough works for all audio formats.

Dolby ATMOS / DTS-X. Dolby TrueHD / DTS-HD(MasterAudio)

Sampling up to DSD 256 / PCM 192KHZ
Impeccable analytical ability
BD/UHD Blu-ray (BDMV/ISO), 3DMVC (Blu-ray, MKV), MKV, M2TS, MTS, TS, MP4, MOV, AVI, etc are soomth playback

Full Blu-Ray menu experience: Multi-version multi-outcome selection, Chapter selection, etc

Support lossless playback. master-level DSD: SACD ISO / DFF / DSF. Lossless CD: WAV / APE / FLAC

Support automatically search and match subtitles for movies on the Internet and exclusively support Blu-ray and MKV forced subtitles
Expand Ability
SATA 3.0 connection hard drives up to 16TB

USB X 4

OPTCAL

Bluetooth 4.2

Gigabit Ethernet and 2.4G+5G dual-band Wi-Fi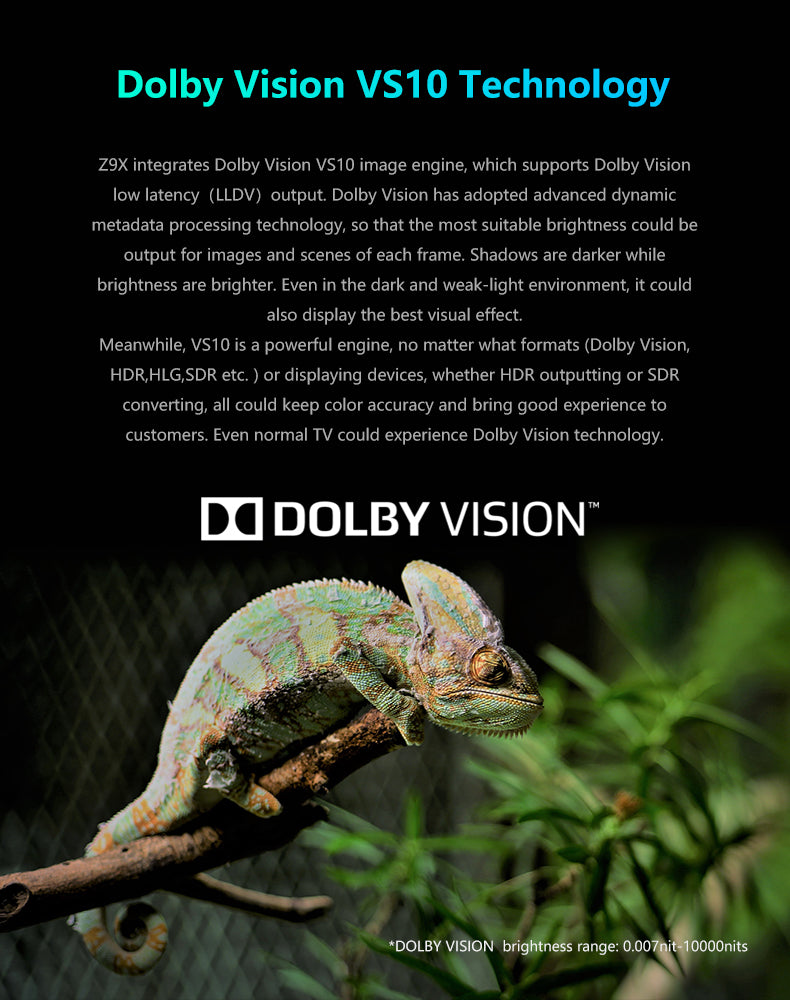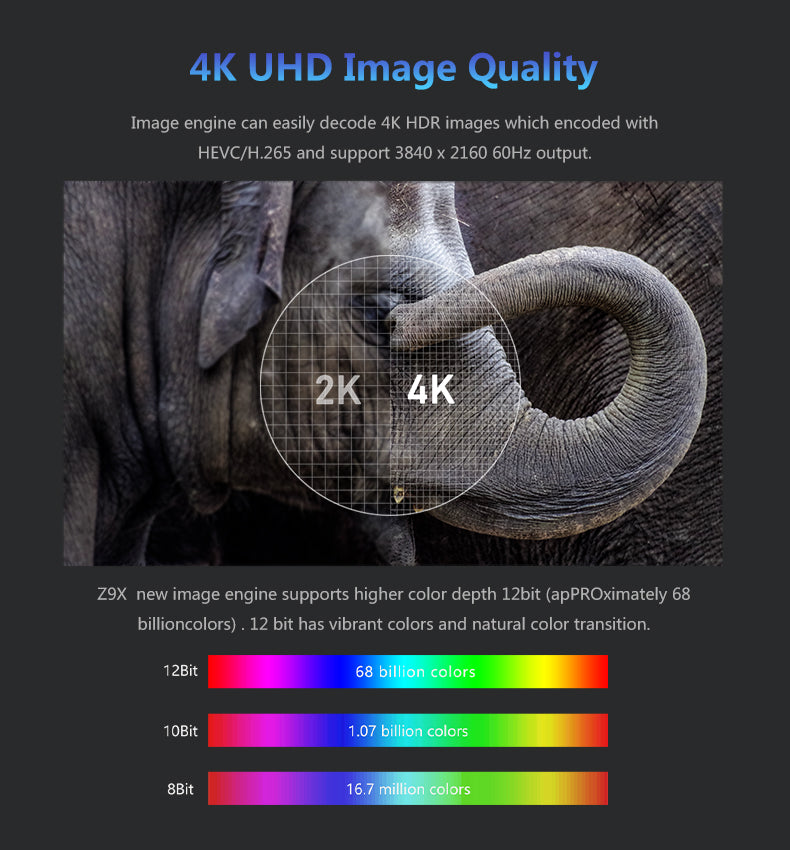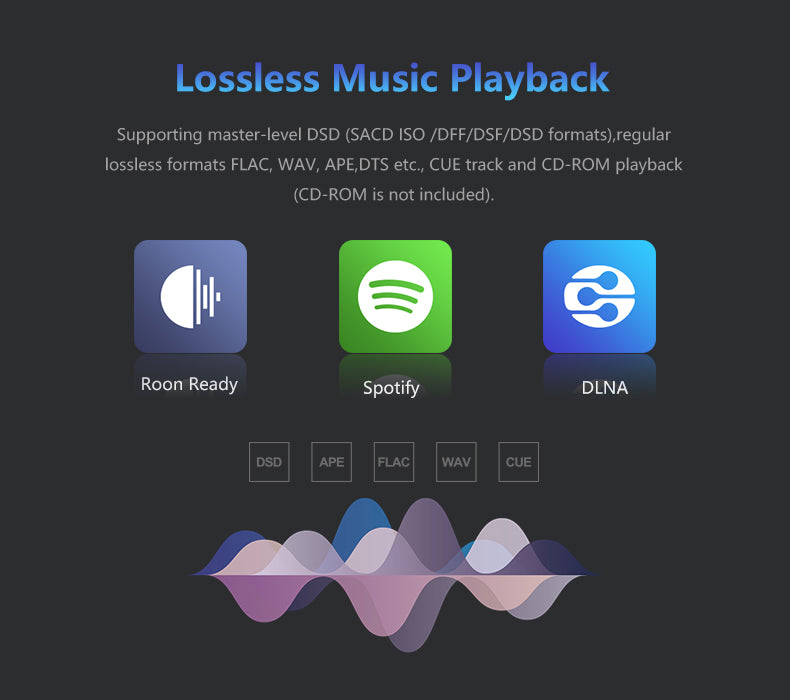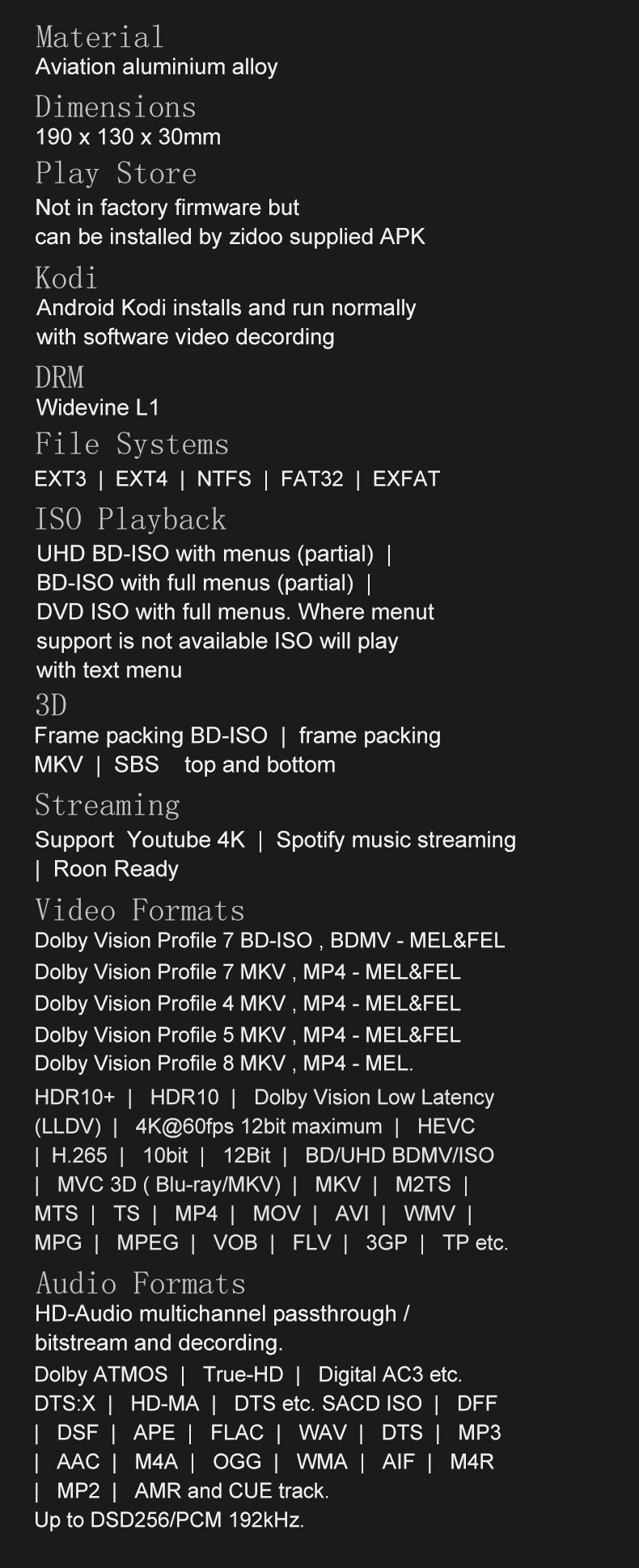 Fast delivery by courier for 11 days. The media player is smart. the picture is good.
NOT ENOUGH IN THE MANUAL AND THE REMOTE IS GLICHY
Review: I give it a 4 rating but am moving towards a 3. The reason is that as much as a problem I had with the H6Pro in the past not getting updated firmware. Ziddo still seems better than the Nvidia Shield Pro however was extremely disappointed in that purchase of the H 6 pro that I almost decided against the new one. Since I believed that Zidoo let the H6Pro become an orphan without any new firmware.
There are many ways to get around the need for Google Play and install the apps that I want. Plus the apps do seem to function differently and in most cases better.
Where is all the information one needs to operate the z9x box? The manual is pretty much useless. Please help with that. Especially with the control center app, it needs better instructions as how to make it work. I plug in the hppt address and it ask me for a password. This is a new device and I have yet to set any passwords up so currently network is useless until I figure it out or someone at Zidoo can give a more detailed version of the manual. The remote seems glitchy. When scrolling on a list of shows I wish to watch, sometimes it jumps two or three more than I clicked.
I have only had it a little while and even with all my criticisms, it is a good device. And it is a little pricy. But it does function well. The processor seems to keep up with what I asked of it when the Nvidia shield pro gave me many issues. So good job. HOWEVER Do Not Make This Z9X An Orphan Like You Did The H6Pro.